Thank you to 100.000+ users who are already using our app
Info
AVAX Blood Pressure is a comprehensive yet simple to use blood pressure diary that will help you to keep track of your blood pressure over time and to take your medication on time. Here are some of the key reasons why AVAX Blood Pressure is the best blood pressure app available.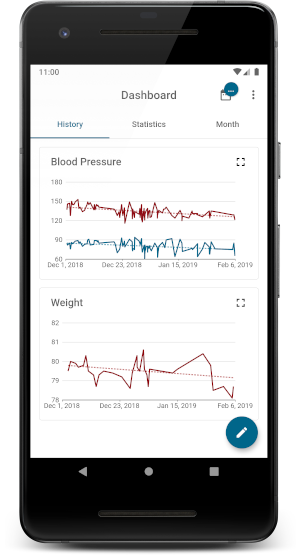 Super quick entry
Our app is designed for fast and easy use. As a result of that you can create new records in record time and with just three clicks. If you like to create records that are more comprehensive: We have options for that, too.
Syncronization & Backup
Do avoid any risk of data loss, your blood pressure records are automatically backed-up in our database. That also means your data is available on all your devices. Currently we support Android and iOS.
Top-class privacy & security
Our app can be used with just an e-mail address. If you do not want to sync your data across devices, you can even use it fully anonymously. We do not share, use or analyze your data or sell it to any 3rd party.
Start free
The use of our app is principally free of charge. Only our PDF reports and medications are a bit limited in the free version. But even these are completely free to try out.
Meaningful charts
A number of timeline charts will help you identify trends in your data.
Clear statistics
We categorize your records as recommended by doctors and present them in a way thats easy to understand.
Medication calendar
Tracking your medication intake is essential to achieve the best therapy results. We support you with that.
Custom reminders
Never forget to take your blood pressure again. With customizable notifications that remind you whenever you want.
Complete history
Our diary is fully unlimited and you will always be able to access all your historic records at any time.
Easy export & reporting
Share or download your data as csv or xlsx file. Or generate a PDF report that includes charts and statistics.
If you have any questions or suggestions for us, we would be happy if you would reach out.
Contact us